Location
Houston, TX, United States
Quick Blurb
I am the mother of 5 children, 3 of whom live at home. MG Rosary helps provide our family with those things a family need.
Interests
Rosary, Prayer, wire work, jewelry, family, crafts,
Skills and Techniques
Wire and basic metal work.
Get to Know
Wanting a rosary with the birthstones of my five children on the Our Father beads, I returned to making rosaries after a 20 year absence. As I hunted for just the right beads, chain, center and crucifix, nowhere did I find anyone offering this type of rosary made with fine materials. Knowing how mothers like to brag on their children, and also need to pray for them daily, I thought other mothers like myself would appreciate the opportunity to own a rosary that was worthy of both their children and their prayers. With special dedication to Mary as her daughter, I strive to make each rosary and jewelry item an object of prayer and devotion as well as a work of art. My own dear mother and mother-in-law went to our Lord within months of each other in 2002. With no earthly mother to lean on, I turn daily to Mary my mother. Each rosary and piece of jewelry I hand crafted especially for you with prayer.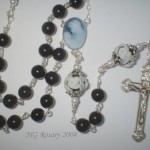 This was probably the first high end rosary I designed. I saw the cameo and HAD to have it for the center. Then I had Heather Davis of Blissful Garden Beads craft the lampwork Paters to match. The Aves are silver sheen obsidian. i could probably recreate something similar to this rosary, but with today's prices, it would be very expensive. This rosary became my eldest daughter's 16th birthday gift.